I recently had a wonderful vacation in the Black Hills of South Dakota with family and friends. The week included a great deal of nature, time and space, and mostly a complete lack of wifi and cellphone access. This seemed like the perfect time to read a book that I've had for nearly 10 years; Where I Lived, and What I Live For by Henry David Thoreau. I was also in the midst of my coaching certification process. Thoreau shares his reflections and insights from 18 months living simply in the woods in a home he build himself. He comments on materialism, capitalism, work, and the meaning of life. I've often remembered, loved, and relished Thoreau's often quoted line:
I went to the woods because I wished to live deliberately, to front only the essential facts of life, and see if I could not learn what it had to teach, and not, when I came to die, discover that I had not lived.
Overall, I found the book dense, overly wordy, and dated (1845), but also brilliant, profound, and relevant to modern life. Here are some of my takeaways.
1. "There are nowadays professors of philosophy, but not philosophers."
Thoreau laments that there are those who study philosophy and the work of philosophers, but fewer who actually write or practice philosophy. Today it seems that there are so many who would critique and evaluate the work of others from a safe intellectual distance, rather than engage in the messiness of creation and subject themselves to critique. See also Paulo Freire on Praxis and Maria Popova on critical thinking, hope, and cynicism in the creative process.
2. Living in the Present Moment
The benefits of mindfully living in the present moment are becoming more and more obvious to us all.
In any weather, at any hour of the day or night, I have been anxious to improve the nick of time, and notch it on my stick too; to stand on the meeting of two eternities, the past and the future, which is precisely the present moment; to toe that line.
And lest we think that social media pulling us away from being present with our family, friends, and even ourselves, Thoreau reminds us that this is an age old challenge with modern manifestations as he admonishes:
After a night's sleep the news is as indispensable as breakfast.
3. Materialism, Doing, and Being
All men want, not something to do with, but something to do, or rather something to be.
In my coaching one of the earliest resolutions is to let go of material pursuits (things, money, status) and seek intrinsic rewards. Here we can connect Thoreau to Fight Club.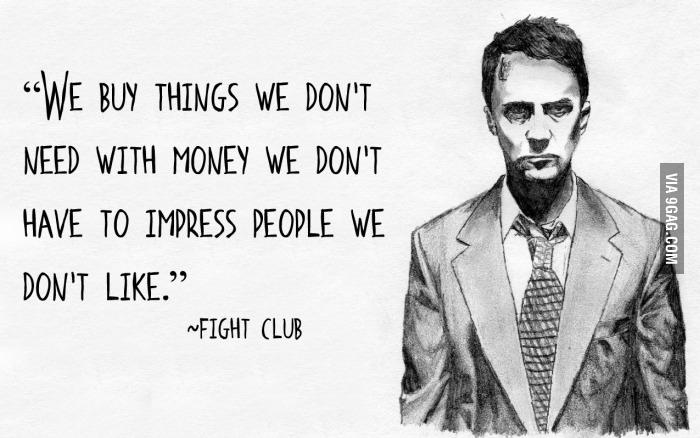 Although moving from external to internal is an early (not necessarily easy) shift many folks make, the harder shift is to blend the doing (work, tasks, activity) of life with the being of life. Thoreau's push toward being, urges us to confront a powerful question: Who are you becoming?
But I would say to my fellows, once and for all, As long as possible live free and uncommitted. It makes but little difference whether you are committed to a farm or the county jail.
Anyone else ever feel as committed to their job as they would be to the county jail?
… Simplicity, simplicity, simplicity! I say, let your affairs be as two or three, and not a hundred or a thousand; instead of a million count by half a dozen, and keep your accounts on your thumb nail…Simplify, Simplify. Instead of three meals a day, if it be necessary eat but one; instead of a hundred dishes five; and reduce other things in proportion.
Fewer commitments, means fewer responsibilities. Fewer things, means less to keep and clean. Fewer things to control, means feeling less out of control.
5. "Suck the Marrow of Life"
I went to the woods because I wished to live deliberately, to front only the essential facts of life, and see if I could not learn what it had to teach, and not, when I came to die, discover that I had not lived. I did not wish to discover to live what was not life, living is so dear; nor did I wish to practice resignation, unless it quite necessary. I wanted to live deep and suck out the marrow of life, to live so sturdily and Spartan-like as to put to rout all that was not life, to cut a broad swath and shave close, to drive life into a corner, and reduce it to its lowest terms, and, if it proved to be mean, why then to get the whole genuine meanness of it, and publish its meanness to the world; or if it were sublime, to know it by experience, and be able to give a true account of it in my next excursion.
As Ferris Bueller would say, "Life moves pretty fast. If you don't look around once in a while, you could miss it."
6. The Brilliance of Unknowing
I've always been regretting that I was not as wise as the day I was born.
I'm realizing that most of the work I need to do on myself is not learning, but unlearning. I've written before of the brilliance of my two young daughters and all they have to teach me about life and the world through the brilliance of their unknowing.
Subscribe to Sharing Fire for Monthly Updates
Each month I share the best of what I am learning, contributing, & finding inspiring through my free newsletter. Subscribe and get 123 Lessons on Thriving, Leadership, & Justice as a thank you gift.
"Your Sharing Fire this month is incredible. I can't tell you how much I appreciate these in my inbox each month. It is my starting point each month for new learning. Life is so frantic with everything; having a cultivated learning list by someone I trust and respect sent to me each month is priceless."